Soldier & Family Newcomers' Orientation
Welcome to the Fort Campbell Community.
Note: This event has already passed.
Sep 30 2021, 9 am - 3 pm
Sep 30 2021, 9 am - 3 pm
The Newcomers' Orientation is an interactive orientation to welcome and inform newly arrived Soldiers, Civilian employees and their Family Members of the many Family support resources available on Fort Campbell and the surrounding communities.
Visit specialists from Housing (on and off post), Tricare and Medical, Childcare and School Liaisons.
Many Family support programs will be available on-site and include Army Community Service (ACS), Family and Morale, Welfare and Recreation (MWR), Community Chambers of Commerce, Education Center and others that are here to support newcomers assigned to Fort Campbell.
View Brochure (.pdf)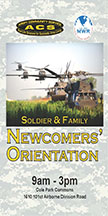 Cole Park Commons (CPC) Community Activities Center

Hours:

Tuesday

9:00am-5:00pm

Office Hours of Operation (Tue-Fri)