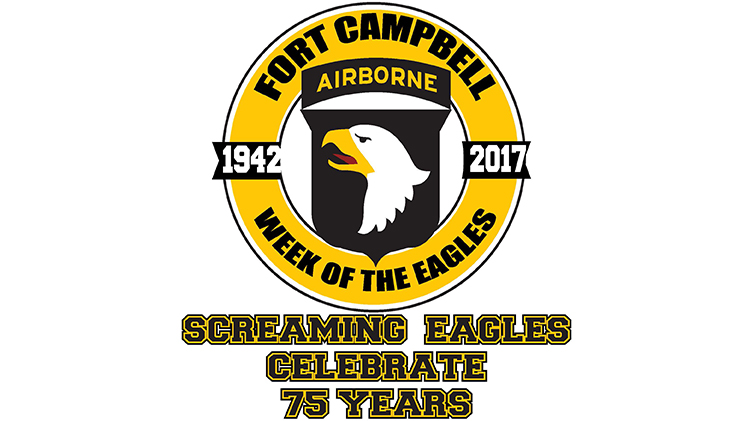 May 19-25 2017 Week of the Eagles (WOE)
Sponsored by USAA
Week of the Eagles 2017 will be celebrated May 19-25, 2017 at Fort Campbell, in recognition of the 75th anniversary of the 101st Airborne Division (Air Assault). The weeklong commemoration of Screaming Eagle history will include a memorial ceremony, a Division Review, the Air Assault Open House, a concert, the Legacy Golf Tournament and sporting events between the brigades to promote esprit de corps. Week of the Eagles 2017 will be open to Soldiers, Families, retirees, veterans and members of the greater Fort Campbell community.
May 19-25 Welcome Center Open, 9am to 4pm (Closed Sunday)
May 19 WOE Division Run
May 19 WOE Concert at Division Parade Field
May 20 WOE Air Assault Open House and Community Fair
May 22 WOE Legacy Golf Tournament at Cole Park (Fee)
May 22 WOE Rendezvous BBQ at Cole Park Commons (Fee)
May 22-24 WOE Sports and Combatives
May 23 WOE Best Air Assault Soldier
May 23-24 WOE Marksmanship Competition
May 23 Memorial Ceremony
May 24 WOE CDR v CSM Softball
May 24 Honor Eagle
May 25 WOE Division Review - Including the Commander's Cup, Soldier and
NCO of the Year awards presentations.
Sponsors: Thank you to our great Sponsors for helping make these events possible! USAA, Fortera Credit Union, Campbell Crossing LLC, Gary Mathews Motors, Budweiser of Clarksville, Humana Military, Aaron's Furniture, First Command, Veterans of Foreign Wars, Ajax Distributing and Griller's Choice. (Sponsorship does not imply Army endorsement. See AR 215-1, para. 11-8d.)
Week of the Eagles Game Brackets