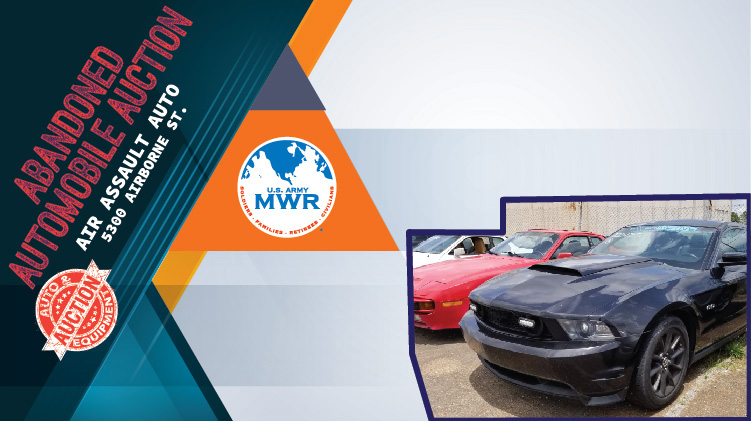 Abandoned Vehicles and Auto Equipment Open Bid Auction
Note: This event has already passed.
Date: Aug 1 2020, 7 a.m.
Auto - Air Assault Auto - Airborne Street 5300 Fort Campbell 42223 Google Map
OPEN TO ACTIVE DUTY, RESERVISTS AND RETIREES ONLY
PATRONS MUST PROVIDE AND WEAR CLOTH FACE COVERING AND GLOVES (FOR BOTH THE PRE-VIEWING AND THE AUCTION).
BIDDERS WILL BE SELECTED VIA A LOTTERY DRAWING
- - Conducted at 6:30pm on 31 July.
WINNERS WILL BE NOTIFIED VIA EMAIL.
See timeline below for registration dates, times and requirements.
PAYMENTS MUST BE MADE WITH CREDIT OR DEBIT CARDS ONLY.
*If at the time of the auction, conditions are such that we may allow more participants and/or open the auction to other groups, we will do so.
_________________________________
Lottery Registration - Active Duty, Reservist and Retirees Only
Must register in person and bring Military ID.
No Registration Accepted the Morning of Auction
23-24 & 27 Jul, 10am to 4pm
31 Jul, 10am to 6pm
Pre-Auction Viewing
27 & 28 Jul, 11am to 1:30pm
30 & 31 Jul, 1pm to 3:30pm
Absentee Bids Accepted 27-31 July, 10am to 4pm.
Lottery Drawing
31 Jul at 6:30pm
Winners will be notified via email.
Auction: Saturday, 1 August
8 a.m. - Processing
9 a.m. - Auction Begins
Only registered bidders will be allowed to enter the auction yard.
Please do not bring guests, babies, toddlers, strollers, carriers, and pets.
For vehicles - winning bidder must be prepared to pay at least 50% of the winning bid on the day of the auction. Items requiring titling can be picked up the following week after balance is paid in full.

For items that don't require titling - winning bidder must be prepared to pay in full on the day of the auction and items can be picked up NLT 3:30pm on the day of the auction.
Auction will take place rain or shine.
We reserve the right to withdraw any equipment prior to or during the auction. Any announcements made the day of the auction will supersede any previously marketed information.
Pick Up Times
5 to 7 Aug, 8:30am to 4pm
10 to 14 Aug, 8:30am to 4pm
Any Vehicle left past the two weeks will be considered forfeit and be set for the next auction, unless other arrangements are made with management.
View Flyer (.pdf)
View List of Vehicles (.pdf)
Vehicle Photos
(this is not a complete album of all vehicles that will be available)
Registration Info
Registration opens at 8am.
Contact